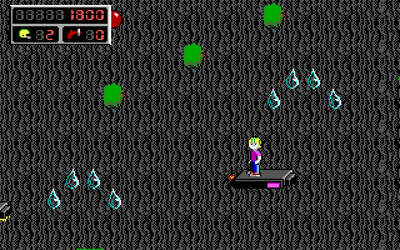 There are a number of items on Commander Keen that give you points and allow you to get the best possible score out there.
The points that can be accumulated from the various items around the world of Keen is huge and can give you anything from an extra life to the highest score in the game.
You get an extra Keen every 20,000 points.
For the first three episodes there are no animation to the items.
The base points are 100, 200, 500, 1000 and 5000, never in between.
The Gems/Diamonds don't have any animation and only appear form episodes 4-5.
The Pizza appears in the first and last game, but have different appearences.
In the first three games there is three different types of Toy Bears, Teddy Bear, Stuffed Toy Vorticon and Stuffed Toy Vortininja.
The Book in Episode 1 appears to be titled with 'KANT'.
The Keg o' Vitalin only has one changing effect on its appearence which can be hard to miss.
Episode 1: Marooned on Mars

Edit
Item Name
Points
Item
Lollipop
100 Pts

Soda
200 Pts

Pizza
500 Pts

Book (Title KANT)
1000pts

Teddy Bear
5000pts

Episode 2: The Earth Explodes

Edit
Candy Bar
100pts

Vorta Cola
200pts

Hamburger
500pts

Cake (Chocolate)
1000pts

Stuffed Toy Vorticon
5000pts

Episode 3: Keen Must Die

Edit
Zitto Candy Bar
100pts

Diet Vorta Cola
200pts

Big 'n' Beefy Burger
500pts

Cake (Double Chocolate)
1000pts

Stuffed Toy VortiNinja
5000pts

ANKH
GOD mode for 10secs

The Lost Episode: Keen Dreams
Lolly
100pts

Cookie
200pts

Candy Cane
500pts

Chocolate Bar
1000pts

Lollypop
2000pts

Cotton Candy
5000pts

Waving Keen
Free Keen

Key
Open Locked Doors

Episode 4: Secret of the Oracle

Edit
Shikadi Soda
100pts

Three-Tooth Gum
200pts

Shikkers Candy Bar
500pts

Jawbreaker
1000pts

Dount
2000pts

Ice Cream
5000pts

Lifewater Flask
Extra Keen

Teardrop
x100=Extra Keen

Gems/Diamonds
Open Locked Doors

Episode 5: The Armageddon Machine

Edit
Shikadi Candy
100pts

Marshmellow
200pts

Chocolate Milk
500pts

Tart Stix
1000pts

Sugar Stoopies Cereal
2000pts

Bag o' Sugar
5000pts

Keg o' Vitalin
Extra Keen

Vitalian, by Vitacorp
x100=Extra Keen

Gems/Diamonds
Open Locked Doors

Keycards
Open Security Doors

Episode 6: Aliens Ate my Baby Sister

Edit
Soda Bottle
100pts

Paddle Pop
200pts

Chocolate Sundae
500pts

Big Chocolate Sundae
1000pts

Super Sundae
2000pts

Pizza
5000pts

Queen Viva
Extra Keen

Viva
x100=Extra Keen

Gems/Diamonds
Open Locked Doors